The Role of Colours in Home Interior
The easiest, the fastest, and the most dramatic way in which an architects can change to the look of your room, is with colours.  Colours play a very important role in Home Interior & Office Interior.  A right choice of colours can make a place more pleasant and productive.  A new coat of paint will promptly rejuvenate the interior of your home, camouflage the cosmetic problems, and reduce architectural defects. Not only your home, paints can also completely change the atmosphere of an office interior. You might have noticed at some places your mood changes immediately and you feel fresh and happy this is all magic of colours and lighting. You can create illusions, establish harmony with décor, or accent your office and home designs with a personal style.
Mood swings
Paints are one of the greatest mood creators. Put some Chinese red lacquer on your white walls, and the feeling is suddenly sassy and hot. Or put some buttercream colour on your home designs for sunny, saturated hues that usher the warmth inside even on the gloomiest of days. Calm your mood with some greens and blues. Or ground the space with some earthy tones.
Colour your personality
Architects should pay attention to your personality while adding colour to home designs. Colour has an effect on our eyes, nerves, moods, and almost all our senses. It's as important as the furnishings inside a room.
Warm or cool?
The colour tone used in your home designs or office interiors would affect your mood in the long run. Don't forget, architects and interior designers can swap colours easily to give your house a new look if you feel the current one has outlived your mood.
There are two hues of colour you can choose from: warm and cool. The cooler tones usually go any of the three ways: refreshing, soothing, or sterile, stark, and cold. If you want to build a refreshing space for home designs or your office interior, go for a crispy grey or green. But if you want a far more soothing space, soft blue would just be perfect. For stark colour palettes, many architects believe that white is the easiest way to get this look.
The same applies to warm colours like yellow, orange, red, and even brown. These hues not only excite and stimulate but also comforts. For instance, if you want an energising look in your office interior, you can select a shade of yellow. For a more comfortable look, chose a warmer brown shade. Remember, colour affects our mood, making it very important for home designs.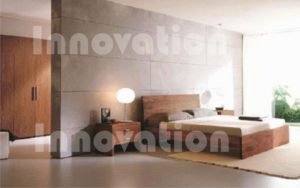 A final word of advice
Have fun with colours. Many paint stores give free samples to experiment or you trial packs which are very economical. Observe the colours at different times of the day. And never worry about trends. They come and go. Select hues that'll always make you happy.